Lindsay Lohan got smashed
File Under: Lindsay Lohan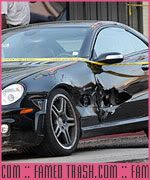 What could possibly be a more fitting way to wrap up our day-long Lindsay Lohan tittle-tattle marathon than a tidbit about Linds recent paparazzi run-in in West Hollywood.
That's right, turns out an overzealous stalkerazzi didn't like the fact that he was outmaneuvered by two teenage chicks in a Benz and decided to smash his SUV head-on into the driver side of the fleeing car.
I expect that the paparazzi will be sued up the wazoo and manhandled in court by a dream-team of high-priced lawyers in no-time. At least, all preliminary signs are pointing in that direction:
After Lohan made a U-turn to evade Ramirez, he intentionally crashed his minivan into the driver's side door of Lohan's Mercedes Benz coupe, police said.

Lohan suffered a cut to her ankle and complained of pain in her neck and ankle, police said. Her passenger, who police did not identify, complained of pain in her head and wrist.
Judging by the serious damage and potential personal injury claims it's time to call Geico, Gallo! One 15 minute call can save you 15% or more on your car insurance next time you decide to ram a celebrity.
P.S. We think this is a much more effective movie tie-in marketing approach to promote "Herbie: Fully Loaded" than TomKat's pathetic "War of the Worlds"/"Batman Begins" public smooch-'n-grope circus.
Enough already with those herpes-laced lip locks.