Kathy Hilton loves Paris for his money
File Under: Paris Hilton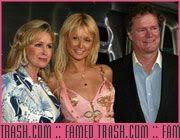 Just when I was starting to think the Princess and Babaluna were the one true Hollywood love story that would stand the test of time and live on for generations, ugly rumors rear their heads and foil the picture of virtuous bliss.
Apparently, the imminent big fat Greek wedding is just a means to a gold-digger end:
One reason Kathy Hilton is just thrilled about her daughter Paris's engagement to Greek billionaire shipping heir Paris Latsis is that she's hoping the union will solve her husband's financial woes, sources say. While the tabs typically gush about the elder Hiltons' "$1 billion fortune," Kathy and her husband Rick have long scraped by on freebies and a modest trust fund.
No wonder Paris is already talking about having children and completing her life. Those billionaire divorce settlements and alimony payments sure can be sweet.