What's wrong with Val Kilmer?
File Under: Val Kilmer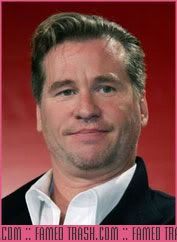 For some reason I feel very celebratory today. I can't speak for my roomies, but I think it might have something to do with the paint thinner that is making the rounds in our living room.
Anyhow, last night we had this genius, earth-shattering idea. Unfortunately, today nobody seems to remember what it was.
Oh well, I guess its back to sucking up to our beloved celebrities.
In today's Sunday special-feature I'm presenting the first piece in my interactive column which will be lovingly titled: "What the hell is wrong with famous actor/director/producer/writer/model/whatever?"
This week's winner is none other than Val "I'm Batman" Kilmer.
I've been told that this picture was taken the other day during a press conference at the Cannes Film Festival. I sincerely hope that I'm not the only one wondering: What the hell is wrong with Val Kilmer?
a) He's constipated.
b) His agent told him he's gonna star in
Top Gun 2
.
c) He's doing his Robert De Niro impression. Again.
d) None of the above. That picture was taken at the DMV, dude!