Tara Reid got a new man and a new job
File Under: Tara Reid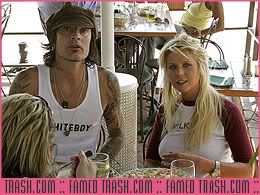 As you can tell by the agape look on their faces, both Tara Reid and Tommy Lee were not quite ready to see their relationship hit the wires. Well, who cares - that's what the wires are for.
But, the new hook-up is not the only new thing in Tara's surgically enhance life. Nope, she also got a new gig as host of E!'s popular 'Wild On' series, which pretty much means that she can finally go wild on camera without having to worry about losing her job or having to flash her knockers.
"You might think you know her from the myriad magazines highlighting her Hollywood highlife, but you are about to experience the real Tara. We're no longer the fly on the wall, this time we are on the dance floor, at the bar, and even in the penthouses, as we follow the only girl who truly knows how to paint the town (or in this case, the world!) red."
I would prefer pink, but red will do, too.