Paris gets viral at last
File Under: Paris Hilton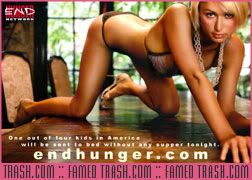 Obviously, a lot of people are jumping on the Paris Hilton bandwagon these days as she makes her way through Europe promoting perfumes, books, movies, accessories, dog stuff, car tires, and anything else that can be labeled with a five-letter moniker.
Well, that is until now:
Famous-for-nothing heiress Paris Hilton has been put to use again, this time, for a worthy cause, EndHunger, the Jeff Bridges, Hollywood celebrity cause whose mission is "to create and support media projects, programs and events to raise awareness and generate action to end childhood hunger." Because of the statement, "This site has been neither viewed nor approved by any parties mentioned or implicated herein," we assume this is an ad hoc, un-official viral effort created, simply, as a good will effort to raise awareness of the issue.
That's right. It seems Paris is part of a very noble viral marketing campaign. Still, I sincerely hope that the success of this effort does not hinge on Paris' shoulders; mainly because I know everybody's still pretty busy staring at her ass.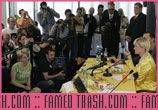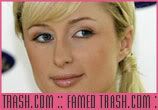 P.S. And just to prove my point, I've added some new pictures from her Germany tour.