My Life's Getting Nowhere - Lets sue Madonna!
File Under: Madonna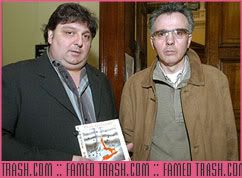 Two handsome Belgian are suing Madonna for plagiarism. And judging by the expression on their faces, they are just as stunned about this as me. But what's done is done.
According to the complaint, a songwriter and his producer allege that Madonna plagiarized their tune, aptly titled "Ma vie fout l'camp" (My life's getting nowhere), with her 1998 hit "Frozen".
I was in the bath. I was listening to the radio, and thought that's strange, I know that melody.
And now that he's finally finished taking a dump, he's ready for his day in court and to be the butt of all jokes.