Kid Rock floats off into the sunset
File Under: Kid Rock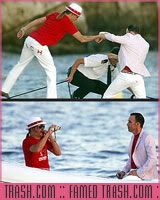 Look who's spending some quality time with Elton John's boyfriend David Furnish in Cannes?
Well, it's none other than American hard badass Kid Rock.
I have to be honest; I never bought into the whole pseudo bad boy image that he so desperately tries to project. There just aren't enough biker bars or strippers in this world to make this paperboy a hard-hitting rock star.
P.S. Judging by his new wardrobe, Pam Anderson must have kicked him in the nuts pretty hard when she gave him his walking papers. Dude wears pants that say "rich" on his ass! That's gotta tell you something...