JLo dumps the real Jennifer Lopez
File Under: Jennifer Lopez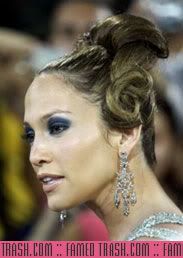 Most people will agree that there's nothing quite as gratifying as discovering your true self - well, except if you're JLo:
Sony Music hired filmmaker D.A. Pennebaker — who did the critically acclaimed Bob Dylan documentary "Don't Look Back" — to shoot something about the making of Lopez's album "Rebirth," but a source told the mag that Lopez didn't like the way the film made her look.

"Sony was thrilled with the finished product. So too were J. Lo's managers, who felt it captured the Jennifer they knew so well," according to Radar. Lopez, however, was not happy. "She was 'stunned' by her depiction, complaining angrily about the sound of her voice and about scenes showing her abusing his employees."
Wouldn't you just love the sweet irony if the cameras were still running while she was complaining 'angrily' about the fact that she was abusing the crew on camera?
Oh the mind-bending labyrinth of the quirk of fate is giving me a headache...