Bruckheimer has cornered your eyeballs
File Under: Jerry Bruckheimer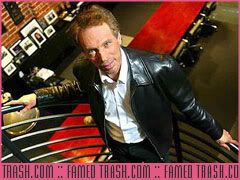 Its official, Brucky's one of the most prolific TV producers of our time. I'm not surprised. The guy knows what he's doing. How else can you explain the fact that David Caruso has a paying job on TV?
I mean, this guy reads his lines as if they're pinned on a donkey's ass. You gotta have some serious producing skills to make that guy look good...
With four new projects landing series orders and six shows returning for the 2005-06 season, Bruckheimer now stands to break the record held for decades by Aaron Spelling as primetime's most prolific series producer during a single season.
So, it's pretty much official, CBS (a.k.a. the Channel Bruckheimer Saved) will continue to ravage primetime ratings like a caged Gorilla on Viagra. Or as Leslie "I-popped-Jeff-Zucker-like-a-cherry" Moonves likes to put it: "CBS will remain the most dominant network for many, many years to come."
I guess that means CSI, the Sitcom, is inevitable.